Proposed EU Budget is "Fit for 2021", regrets Renew Europe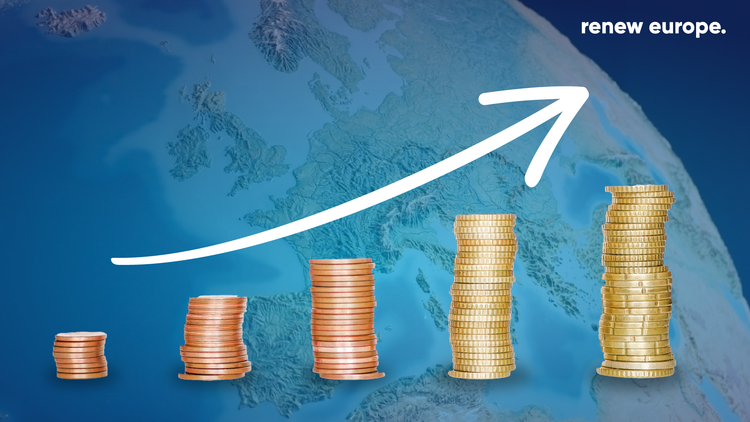 A year after the start of the Russian war in Ukraine and the announcement of the $369 billion Inflation Reduction Act by the United States, Europe no longer has the luxury of waiting to ensure its technological, ecological, and military sovereignty, in an increasingly competitive and unstable world.
Renew welcomes the new aid package for Ukraine and the proposals for greater budgetary flexibility and the resources released to honour the debt. However, there are shortcomings and room for improvement.
European Sovereignty Fund: a great deal of effort with little result
Renew has been working for over a year to create a European Sovereignty Fund to address Europe's critical dependencies: energy, semiconductors, medicines, raw and rare materials, chemicals, defence, and space. Despite the ambitions stated by President Ursula von der Leyen in September 2022, the Commission is reducing our sovereignty efforts to clean tech, deep tech, and biotech. It is also stripping this tool of all symbolic significance. Neither a Fund nor a reference to sovereignty, the Commission has chosen a facility: mainly a mere advertising effect on a silver platform.
To increase our strength and face critical shortages and dependencies, Renew Europe stresses the need to mobilise the money already available but not used - for example from the cohesion policy or the recovery plan. No available money should be wasted. Every euro is useful. However, the Innovation Fund, Horizon Europe, European Defence Fund and InvestEU already allow these investments. Reinforcing them with 10 billion in fresh money is a minimum starting point given the high investment wall in front of us. So, this "Strategic Technology Platform for Europe" is sorely lacking in impetus. As a result, the Net-Zero Industry Act runs the risk of being nothing more than an empty shell.
At a time when many governments are announcing massive amounts of State aid, Renew Europe wonders whether the real problem for them is investing in Europeans rather than constraints linked to national public finances. Our group warns against the potential fragmentation of the internal market if the European budgetary solution is not equipped with more means.
Indexation of senior civil servants vs. Vision and protection of our continent
Our group recalls that the purpose of the MFF revision is to update the budget in light of developments in Europe since its adoption in 2020. It is why Renew is particularly surprised at the low attention on investment in defence albeit the war is still raging in Ukraine, while the Commission focuses more on the budget for its administration.
Our group will therefore mobilise to ensure a strategic vision to this budget to favour necessary expenditures between now and 2027. While recognising the need for experts to implement the Green Deal and our other ambitious public policies, Renew calls on the institutions to optimise their resources to achieve greater efficiency.
Revenues
Only new own resources will enable us to square the circle. It is why our group welcomes the Commission's proposed revenue update. The Member States must adopt the revenues linked to the Carbon Border Adjustment Mechanism and the ETS carbon market as quickly as possible. There can be no further delay now that everything is ready on the legislative side. Pro-Europeans are impatiently awaiting a Europe that ensures fiscal and social justice without putting the burden of repaying the recovery plan on their shoulders.
Valérie HAYER (Renaissance, France), Renew Europe group spokesperson on budgetary affairs and member of the Parliament's negotiating team on the 2021-2027 budget, said:
"We can no longer conceive tomorrow's Europe as if nothing had happened since 2021. Our sovereignty and security are as much under pressure as our national budgets. Only by making intelligent use of our resources and introducing new revenue will we be able to give a new breath to Europe to tackle the threats it faces".