Search and Rescue requires coordination at EU level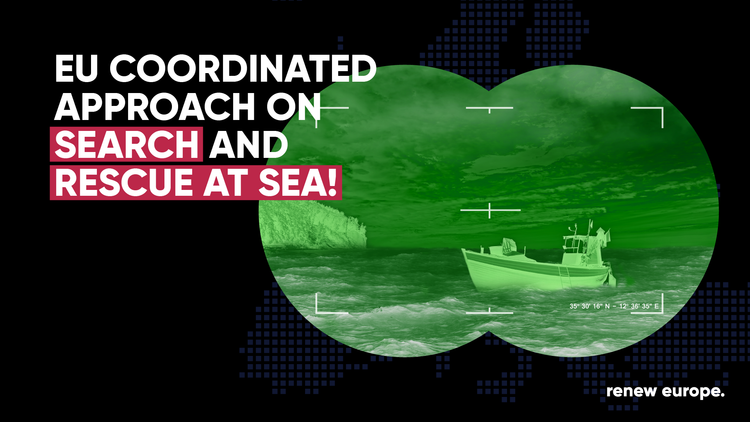 In the wake of the recent shipwreck tragedy off the Greek coast where a vessel carrying 750 people capsized and sank, the European Parliament is set to adopt a resolution on Thursday proposing several EU measures to end the deaths in the Mediterranean. The Renew Europe group calls for the European Parliament to send a bold message to the Commission and Council about the immediate need for a comprehensive and long-term Search and Rescue mission coordinated by the EU and implemented by the Member States and Frontex.
Fabienne Keller (L'Europe Ensemble, France), the European Parliament's rapporteur of the Asylum Procedures regulation and the Renew Europe group's negotiator on the resolution on the need for EU action on Search and Rescue in the Mediterranean, said:
"We cannot let the Mediterranean continue being a graveyard for vulnerable people seeking international protection. Enough with the ad hoc solutions, we must find a sustainable long-term approach for Search and Rescue missions. With this resolution, we want to call for an EU coordinated approach on Search and Rescue at sea in cooperation with all actors involved. It should have been done years ago. We must also stop criminal smugglers and traffickers who exploit vulnerable individuals and endanger lives at sea. A strong push to dismantle these criminal networks is urgent."
The draft resolution also calls for Member States and Frontex to provide sufficient vessels and equipment dedicated to search and rescue operations and personnel, and for the Commission to support life-saving initiatives financially. The implementation of already existing rules are also under the spotlight, calling upon the Commission to examine whether actions taken by some Member States to prevent rescue boats from entering their territorial waters are in line with EU and international law, and to take appropriate action if necessary.
Barry Andrews (Ireland, Fianna Fáil), initiator of the resolution, added:
"It seems as some EU Member States continue to flout international law in their refusal to render assistance of those in distress. According to international maritime law, both shipmasters and States have an obligation to render assistance to those in distress at sea regardless of their nationality, status or the circumstances in which they are found, and irrespective of the intentions of those onboard. Although investigations are ongoing, it appears that the Greek authorities were informed hours before the boat eventually sank. If this is true, it cannot be tolerated in the European Union."
Along with this, intensified efforts to dismantle criminal smugglers exploiting desperate people are needed, as well as the creation of safe and legal pathways. Meanwhile it is essential to in parallel advance the negotiations on the Asylum and Migration Pact.