First Renew Europe Pre-Summit: Together, with ambition and determination, to build a new Europe that delivers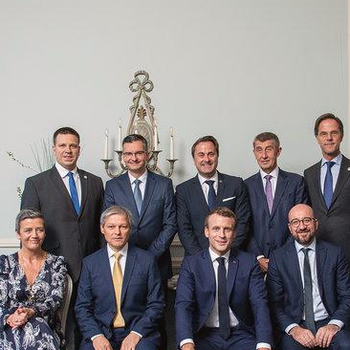 Today, at the invitation of the Renew Europe Group President Dacian Cioloș and ahead of the EU Summit, the political leadership of the Renew Europe family is meeting for the very first time. A historic moment that will bring together seven Heads of State of Government, and leaders representing nearly 90 political parties – all of them united in their joint mission to fight for a new Europe that is capable to act and to deliver for its citizens.
The Renew Europe Group President Dacian Cioloș, the President of the French Republic, the Prime Ministers, the Vice-President of the European Commissioners and the Party Leaders of ALDE, EDP, LREM and PLUS will meet at the Cercle Lorraine in Brussels. The Pre-Summit will focus on how to push together the pro-European agenda, will discuss the latest update on Brexit and will work on the EU Summit's agenda.
The participants are:
European Council
- Andrej Babiš, Prime Minister of the Czech Republic
- Xavier Bettel, Prime Minister of Luxembourg
- Emmanuel Macron, President of the French Republic
- Charles Michel, Prime Minister of Belgium and President-elect of the European Council
- Jüri Ratas, Prime Minister of Estonia
- Mark Rutte, Prime Minister of the Netherlands
- Marjan Šarec, Prime Minister of Slovenia
European Commission
Margrethe Vestager, Commissioner for Competition and Vice-President-designate of the European Commission
Brexit
- Michéal Martin, Leader of Fianna Fáil (Ireland)
- Guy Verhofstadt, MEP, Brexit Coordinator for the European Parliament (Belgium)
Political Parties
- Hans van Baalen, ALDE Party president
- François Bayrou, EDP President
- Stanislas Guerini, LREM Executive Officer
- Dragoș Tudorache, PLUS
ENDS