The Council must stick to the agreed 'Asylum and Migration Joint Roadmap'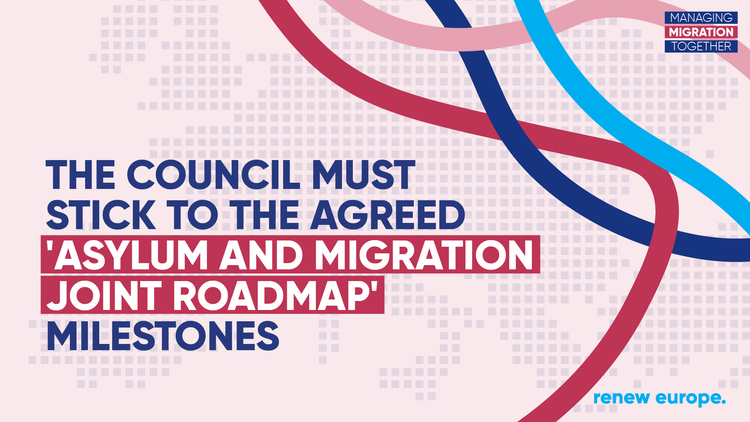 Ahead of the upcoming Justice and Home Affairs (JHA) Council meeting of 8-9 June, MEPs from the Renew Europe group are calling on EU Member States to fulfil their responsibilities agreed under the Joint Roadmap on the Migration and Asylum Pact. In a letter sent to the Ministers, MEPs urge the Council to at the meeting find compromises on key regulations establishing solidarity between Member States to avoid risking that the EU fails to reform the migration and asylum system by the end of the Parliament's mandate.
Sophie in 't Veld (D66, Netherlands), Coordinator of the Renew Europe Group in the Committee on Justice, Home Affairs and Civil Liberties (LIBE) and Member of the European Parliament's Asylum Contact Group, said:
"For the first time in many years an agreement on asylum and migration is within reach. If the Council fails to grab the momentum, a common policy will disappear over the horizon, possibly for good, leaving us with the chaotic status quo that is not working for anyone. An agreement would be a giant leap forward, towards migration management that is both effective and in line with our European values."
As the European Parliament has delivered on all of the agreed milestones, the group is calling upon the Council to now play its part by finally agreeing on its position on the cornerstones laying down solidarity between Member States, namely the Asylum and Migration Management Regulation and the Asylum Procedure Regulation, as well as the so-called "Crisis" Regulation. With an approaching deadline at the end of June, the 8-9 June JHA Council meeting is the crucial moment for the Council to deliver on these legislative texts to enable the inter-institutional negotiations on the Pact. Failing to do so would risk the trust that has been built and the momentous progress that has so far been achieved.

Fabienne Keller (Renaissance, France), Vice-Coordinator of the Renew Europe group in the LIBE Committee and Member of the European Parliament's Asylum Contact Group:
"We cannot afford that the Council fails in reaching compromises on the regulations. If they don't stick to the agreed milestones, it will ultimately risk the whole Migration and Asylum Pact. It is time for them to forge compromises so that we can start the inter-institutional negotiations. One year ahead of the European elections, it is crucial that European Parliament and Council come together to negotiate all files of the European Pact on Asylum and Migration. We did our part; now the Council must do theirs."
Read the letter to the Justice and Home Affairs Ministers here.